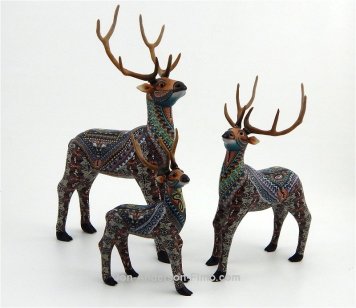 Jon Stuart Anderson Elk is a new fimo design for 2016. Each piece has been individually photographed so you are buying the actual piece shown. Scroll down to see all 3 sizes (baby, mama, and papa.)
| | |
| --- | --- |
| Jon Anderson Fimo Elk Baby F | $158.00 |
| | |
| --- | --- |
| Click on photo for larger image if available | |

Fimo Creations Baby Elk.
Approximately 3-1/4 L x 5-3/4 T


| | |
| --- | --- |
| Jon Anderson Fimo Elk Mama B | $318.00 |
| | |
| --- | --- |
| Click on photo for larger image if available | |

Fimo Creations Mama Elk B.
Approximately 4-1/2 L x 7-3/4 T
Assembly required. The antlers have a peg that fits into the elk's head and will need to be re-inserted when your elk arrives.


| | |
| --- | --- |
| Click on photo for larger image if available | |

Fimo Creations Papa Elk.
Approximately 5-1/2 L x 10-3/4 T
New shipment just arrived, the pap elk we send may be differant than the photograph.


Shipping Information
Shipping in the US is a flat rate of $10.00 on orders under $100.00
US Orders over $100.00 ship FREE

Contact Us--- Privacy Policy--- Returns and Guarantees--- Secure Shopping--- Shipping